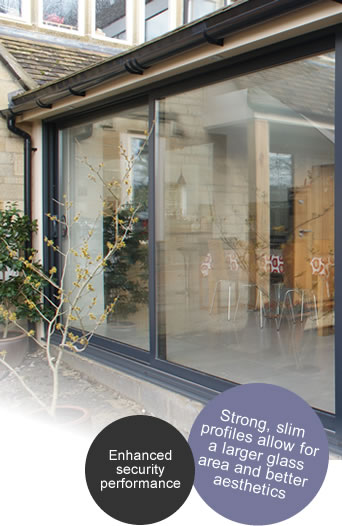 The many benefits of aluminium are making aluminium doors  increasingly popular among builders and architects, especially for commercial applications. With their slim sightlines and large glass area, aluminium doors add a sleek touch to a building's exterior.
No other material beats aluminium in terms of strength and security, and our doors are certified for their enhanced security performance.
Our range of aluminium doors includes Alitherm Heritage doors for domestic and commercial applications, pivoting and swing doors for the commercial market, and bifold and patio doors popular in across all applications.
Aluminium Doors Specifications
Externally or internally beaded
High security glazing (or unglazed option)
Enhanced security performance certified to PAS 24
Polyamide thermal barrier can achieve up to an 'A' energy efficiency
Open in /open out
Locking mechanisms including security deadlock and hook bolts
Dual colour options
Excellent weather performance (BS6375 Part 1)
Heavy duty versions
Choose from the whole range of Smarts aluminium doors and a variety of options, for your every project.
Heritage Doors
Our single or double hinged aluminium doors make ideal replacements for traditional steel-framed doors in heritage, renovation and refurbishment projects. If you're looking for strong and secure steel replacement doors for residential application, our aluminium heritage doors will do the job. Learn more about the product specifications for our aluminium heritage doors.
Shop Front Pivoting and Swing Doors
Shop front doors are suitable for more applications than just in shops; they are designed to withstand constant use, for example in schools or entranceways to public buildings. Choose between pivot and swing doors and a range of additional hardware and locking options to create the ideal door for every project. Learn more about the product specifications for our aluminium shop front doors.
Bifold Doors
Also known as sliding folding doors, our bifolds are the popular alternative to patio doors in residential applications, and have also been adopted in commercial new build, architectural and refurbishment projects. Aluminium bifolds are extremely robust, in some cases replacing exterior and interior walls, as well as being good looking and smooth operators.Learn more about the product specifications for our aluminium bifolding doors.