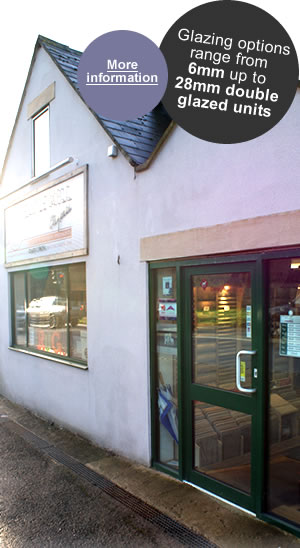 Shop front doors are designed for use in high traffic areas such as commercial buildings, schools and public buildings where they will be required to withstand constant daily use. Our shop front doors are available in pivot or swing form, depending on your project requirements.
Choose from a wide range of locking, closing, entrance and exit hardware, as well as automatic opening and closing hardware for your commercial pivoting and swing doors.
Keep reading for product specifications for commercial pivoting and swing doors or read more about buying from Amberley.
Specifications
Fit shop front doors within an aluminium fixed light, 100 x 50mm pocket glazed framework to create a ground floor, single storey glazed entranceway. Create shop fronts to your exact specifications to replace timber shop fronts directly.
Glazing options range from 6mm single glass to 28mm double glazed units and most sizes in between.
Shop front doors are either hung on concealed hold open, or non-hold open, overhead transom closers. Choose between pivoting doors to open in and out, or doors hung on heavy duty butt hinges on a rebated frame to open in or out (with a face mounted closer).
Commercial entrance doors feature DDA compliant low ramp thresholds for easy access and anti finger-trap stiles for safety of use, particularly when used in schools.
Hardware options include hook locks, deadlocks, panic bars, paddle handles, electrically operated strikes, manual digital locks, magnetic locks and automatic operating gear, amongst others.
Shop front doors are available in any standard RAL or British Standard finish in single or dual colour, or silver anodised finish.