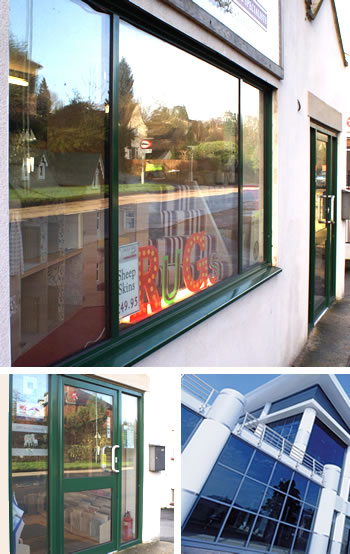 We supply a range of systems to create ground floor, medium rise and multistorey applications. Ground floor and single storey applications are catered for with our shop front system, or for improved thermal performance, try SC-Frame curtain walling. When specifying for high-rise, multi-storey applications, go for our MC high performance range of curtain wall profiles.
Keep reading for product specifications for shop fronts and curtain walling or read more about buying from Amberley.
Specifications
All systems are easy to install on site with minimum installer preparation.
Shop front screens and curtain walling accommodate a range of glazed (or unglazed) windows and doors, to provide necessary openings without additional subframes.
Shop front and curtain wall frames and glazing are secure and robust (certified to PAS 24), weatherproof (BS6375 Part 1) and thermally efficient.
All aluminium screens and frames are available in the full range of standard RAL and British Standard paint finishes.
Enquire about commercial glazing today or learn more about the different variations:
Shop Fronts & Screens
The ideal replacement for old timber shop fronts, our Smarts aluminium Shopline Screen can be individually tailored to suit your every project. We supply a range of 100 x 50mm pocket glazed profiles for ground floor and single storey applications. Match aluminium screens with our range of glaze-in windows and doors to create a shop front without additional subframes. Contact us for a fast quote and free delivery of shop front screens.
SC-Frame Curtain Wall
The SC-Frame is a curtain wall system designed to provide optimum thermal performance. This curtain walling is suitable for use in low to medium rise facades, such as large shop fronts and showrooms where the application demands an attractive glazing system that delivers maximum glass area and light. Combining with a wide range of windows and entrance doors, the SC-Frame is pre-assembled in sections during fabrication, making for rapid on-site installation. Enquire about our quality curtain wall systems here.
MC Wall High Performance Curtain Wall
The MC Wall is a curtain wall system designed to create a dramatic but practical facade, whilst allowing maximum light into small or large multistorey buildings. This system has concealed transoms for seamless glass to glass joints, and incorporates top-hung frameless vents and the option of sloped and facet-shaped glazing. The MC wall is a high performance, zone drained system, tested in accordance with STS52.0 and passed to CWCT standard. For a high performance, high quality finish curtain wall system, enquire here.