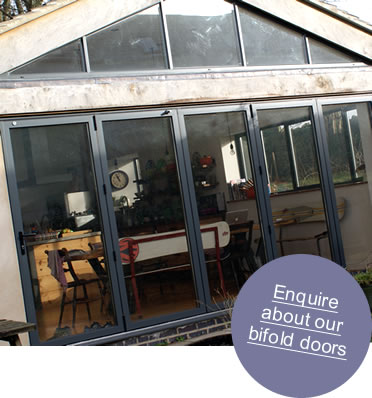 Known to the consumer as sliding folding doors, our range of Smarts bifold doors are ideal for nearly all applications, including domestic, commercial, new build, architectural and refurbishment markets.
We have been manufacturing Visofold bifold doors from Smart Systems continuously over the last 10 years and we now have a dedicated manufacturing facility for this product.
Take advantage of our extensive knowledge of sliding folding doors and choose bifolds that will operate well, last for a long time and look good for many years to come.
Keep reading for product specifications for bifold doors or read more about buying from Amberley.
Specifications
Our sliding folding doors have a polyamide thermal break, are internally glazed and feature contoured sash profiles and optional round or square glazing beads.
Doors stack either inside or outside of building.
Frame of doors is either fully rebated for optimum weathering or with low ramp threshold for recessing into floor.
Bifold doors are available as standard 2, 3, 4, 5, 6 and 7 panel options, open in or open out, up to a maximum of 6400mm wide x 2500mm high. Wider doors can be achieved by jointing frame profiles.